Nuffield International Farming Scholars inspires people to make a difference in the world of agriculture.
With a history that dates back to 1947, this global scheme is focused on growing the most critical resource the agriculture industry has: people.
The Nuffield International Farming Scholars program is a unique global network of farmers and agri-professionals that focuses on:
Personal capacity building
Excellence in agricultural production, distribution, research, and management
Local, national, and global thought leadership
Nuffield International is a non-profit body that provides over-arching support and governance for Nuffield Farming Scholars member nations, along with associated countries where the Nuffield program is taking shape.
We believe that agriculture is the foundation of a stable society, and that in order for agriculture to be dynamic, remain competitive, and serve society, we need leadership and expertise from those in the industry. The work done by Nuffield International supports the development of individuals in agriculture around the world, giving Nuffield Scholars the confidence, knowledge, and network to step up as leaders at home and on the global stage.
Nuffield Scholars are creating new knowledge, providing thought leadership, and giving counsel to agricultural organisations at all levels. Increasingly, these dynamic and curious agriculturalists are also stepping up to address the global Sustainable Development Goals (SDGs).
Aligning with the Sustainable Development Goals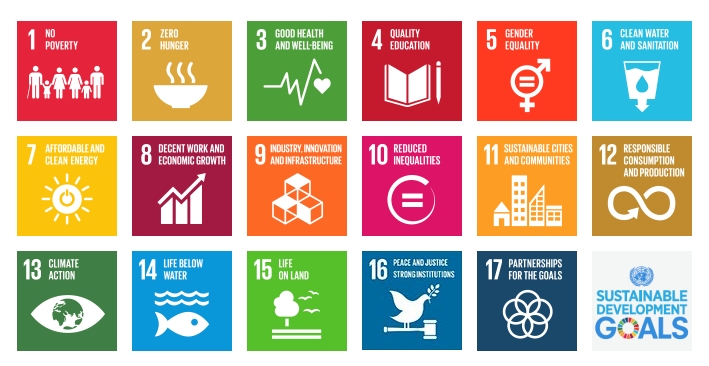 The United Nations (UN) has created a global platform to address sustainable development, including the adoption of 17 Sustainable Development Goals, or SDGs. These goals form the foundation of the 2030 Agenda for Sustainable Development, and provide a roadmap for countries to address poverty, fight inequalities, tackle climate changes, and ensure across all efforts that no member of society is left behind.
Given the mission and focus of Nuffield International to provide a global framework for leadership, cooperation, and development in the world of agriculture, our commitment to sustainability is embedded in our core beliefs.
Through our engagement in global agriculture, the efforts of our organization and the efforts individual Nuffield Scholars directly advance multiple SDGs due to the interconnected nature of them. In order to achieve zero hunger (SDG2) through the production and distribution of food, agriculture also plays a lead role in education, land management, poverty alleviation through the creation of employment, is continually innovating and providing essential infrastructure for regional communities and in many places in the world is the key sector providing economic growth and opportunity for them.
Within the organisational strategy for Nuffield International we have established goals to foster leadership in economic, environmental, and social sustainability in global agri-food. We believe these goals align themselves with the SDGs and global actions to address sustainable development. Therefore, we are committed to capturing the relevance of the insight and research Nuffield Scholars are generating and contributing this new knowledge as part of the UN Food and Agriculture Organisation (FAO) efforts to achieve zero hunger by 2030.
Latest News